Last weekend the trainers from Fundacja Autokreacja had a chance to run a workshop as a part of Digital Participation: Engaging Diverse and Marginalized Communities project.
We met with a group of foreigners living in Poland to learn their stories and share them in an innovative way. Each participant had a chance to find out what digital storytelling is and transform their story into a digital one.
For the meeting place we chose The Warsaw Multicultural Center, whose climate and atmosphere favour meetings.
We began the workshop with getting to know each other, which was also the first attempt to creating stories about the meaning of our names. Then we were writing letters to someone special so we could verify our short form writing skills. That exercise was an introduction to creating scripts, which we were constantly consulting with each other and we were sharing our opinions. After discussing the final versions of the scripts, we were analysing crucial elements one has to remember of while recording the audio track, f.e. a quiet place for recording, the distance between the microphone and the mouth or also clear and slow reading. After recording the audio track, the next step was learning video editing programmes and a discussion about choosing photos to videos, so each participant could create their story from beginning to end on their own.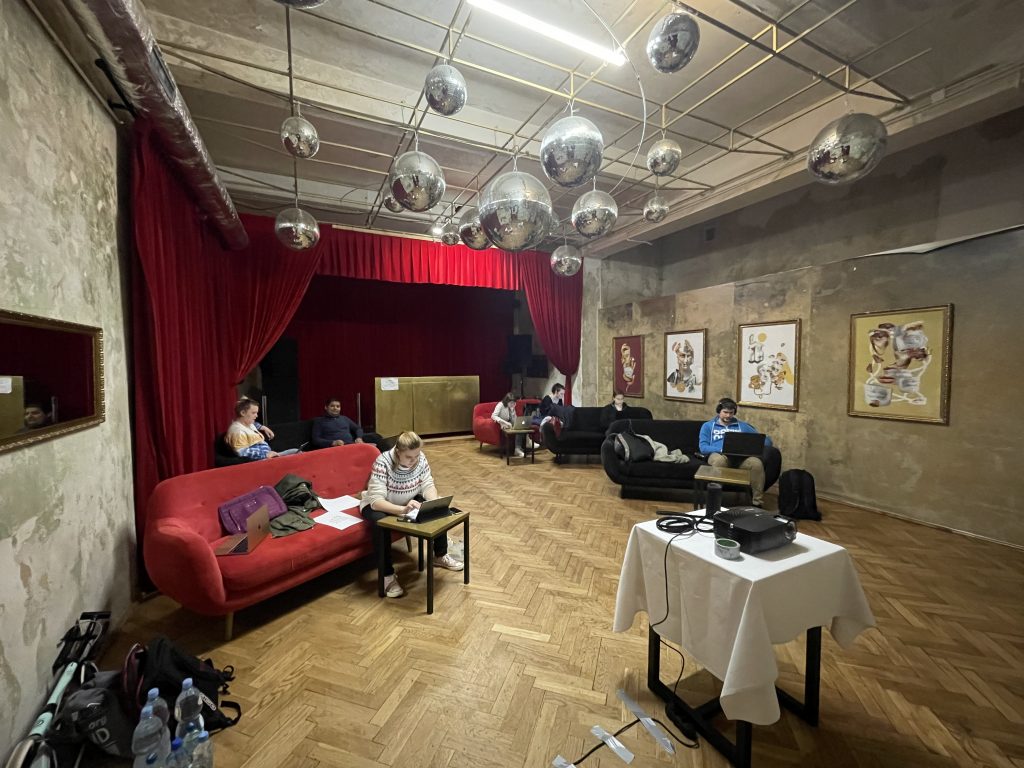 The final and most interesting part of the workshop was the presentation of the videos on a big screen. We found the space for it in Raj w niebie – a place supporting cultural events, where it's worth stepping by "after hours".
At first we saw the film by Yulia from Ukraine, who presented Warsaw, the city she's currently living in, as her friend. In that video we could admire Yulia's photographs presenting Warsaw, unknown and forgotten. Next piece was also about Warsaw but from a different perspective. Katrin from Estonia showed the beauty of Warsaw and told about it with huge respect, as if she was talking about her own home. Next participant decided to share her personal story connected to her passion. Joanna told us how she began singing and how her path looked like, from beginning to performances in front of the audience. However Maher from Bangladesh decided to inspire us with a story about himself and how he reached the place where he's now. Next story was heartwarming because Balázs from Hungary told us about the difficult relation with his father. Balázs created two visual versions of his story, but neither him or the group could choose a better one. For personal reasons we won't publish Balázs's video, but trust us, those were very emotional and well-done pieces. Last participant presenting their story was Ola who made us all feel better with her video about learning languages. Ola used elements of animation in her work, which brought a smile on the group's faces.
At the end we had a chance to see the video made by Kasia, the trainer of the workshop, who shared a very personal story with us and it was difficult to express our feelings as it wasn't only a beautiful piece, but also a touching story.
We finished the weekend with a discussion about our work and we summed up all three days. Yet it's still not over as soon we're meeting for the second part of the workshops, where we will be presenting our stories using photography.
Digital Participation: Engaging Diverse and Marginalized Communities project financed by Erasmus+.
The workshop took place on 28 – 30th of May 2021.